With 285,000 sq. ft. of dedicated storage space, RSDC can warehouse an impressive, single stacked 4500 coils. At our humidity controlled facility we can unload up to 65 rail cars per day. In addition, our innovative inventory management system and reporting was the basis for inventory status reporting that has become a standard in the automotive industry today.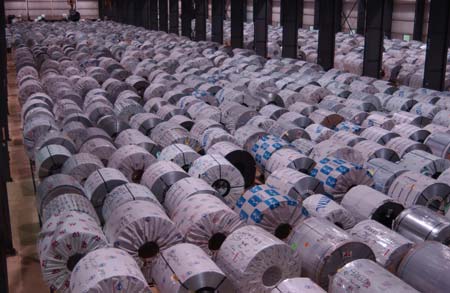 RSDC's coil receiving, storage and shipping offers customers the following benefits:
Safe and efficient production
Accurate processing based on customers' specific requirements
Instant online access to material status
On-time shipments
Dependable communication
Full-service receiving
Coil Receiving
For maximum efficiency, RSDC unloads railcars and trucks out of three bays using overhead cranes with capacities of up to 90,000 lbs. All coils are inspected upon receipt and added to our online inventory management system. We use Falcon handheld scanners to receive and inspect materials and automatically update our production inventory system. This also automatically updates in real-time, the online inventory monitoring system that customers can access via the internet to view "Red/Yellow/Green" (RYG) reports.
Features of our raw material receiving services include:
A 285,000 sq. ft. warehouse
Housing for up to 4500 coils
Truck receipt
Housing and unloading of up to 65 rail cars per day
Six 90,000-lb. capacity overhead cranes with remote or cab operation
Three unloading bays
Real-time updates to RYG (red/yellow/green) reports
Clean, Climate-Controlled Storage
RSDC maintains a clean, climate-controlled warehouse environment to protect the integrity of the materials stored there. We provide a coil roller to reposition the outer lap when necessary to ensure safe processing. Furthermore, we also provide lap removal if damage is incurred during transportation to our facility.
Coil Shipping
At the opposite end from receiving, RSDC's massive warehouse contains a dual-bay coil shipping dock. The release, shipping and last-look inspection processes are electronic systems with built-in error-proofing to ensure accuracy, consistency, on-time shipments, and dependable communication to our customers. These systems provide real-time material tracking in our online inventory monitoring system and ensure immediate ASN transmission to our customers upon material shipments.
Our facility offers web based up to the minute inventory which allows our customers to be the driving force behind their material releases. Our crane and fork truck load and unload capabilities ensure that our customers material can be loaded for safe, reliable transportation.  We work hard to get your material to you on time, every time.
270,000 square feet of humidity controlled warehousing.
90,000 pound (41,000 kg) capacity cranes throughout the warehouse for efficient material transportation.
Ability to receive and unload sixty five railcars daily into our facility.
Curbed truck bays and vapor lock doors minimize environmental elements.