Four industry leading, metal coil-fed blanking lines are at the core of RSDC. These four impressive lines feature process automation and optimal inspection capabilities to ensure the highest quality goods produced safely and efficiently.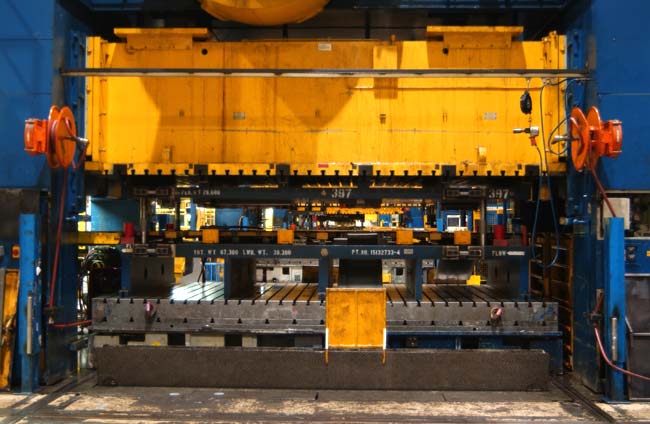 The advantages customers experience with RSDC's blanking lines include:
Automated processes to provide consistent and efficient production
Feed forward capabilities to enable auto rejection of material pieces based on defect data communicated by the steel mills
Dual inspection capabilities to ensure 100% top and bottom inspection
Elevated inspection stations to provide better viewing and optimized inspection processes
Automatic "one button" rejection to dispose of non-conforming pieces during inspection
Rockwell software automates part recipe set up and part processing history to continually ensure best manufacturing practices
Dual stacking system with four pilers to provide continual stacking without halting production
Online packaging capabilities to ensure material is ready to ship off the line
RSDC's blanking lines include three 800-ton exposed capable lines and one 600-ton unexposed press. The 800-ton press lines feature in-line leveling, high pressure hot water wash, top and bottom electrostatic oiling, and 100% top and bottom inspection. The 600-ton line features in-line leveling and hand-stacking of parts. Together, these four lines offer a combination of capabilities that are rare industry-wide, including:
Crane loading with a capacity of up to 90,000 lbs. on all four lines
Automated top and bottom coil loading on all four lines
Press beds of 102 x 204 inches and 102 x 144 inches
Up to 84-inch blanking
6 high leveler with 9 over 10 rolls and full-width intermediate rolls
Sheet height of up to 53 inches with a 31-inch adjustable pass line
Elevated inspections stations for better viewing and optimized inspection processes
Piler unloading via crane or hi-lo
Blanking Line Specifications
The specifications for each of RSDC's four blanking lines are described below.
Blanking Lines 1 & 2
Material Type: Electrogalvanized, Hot Dipped, Galvanneal, Cold Rolled (class 1 & 2), Aluminum
Steel Gauge: 0.5mm (0.02") min to 2.3mm (0.09") max
Aluminum Gauge: 0.5mm (0.02") min to 2.3mm (0.09") max at 40 kpsi
Coil Weight: 40.8 metric tons (90,000 lbs.)
Steel Width: 457mm (18") min to 1930mm (76") max
Aluminum Width: 609mm (24") min to 1930mm (76") max
Sheet Length: 305mm (12") min to 4013mm (158") max
Feed Accuracy: +/- 0.25mm (0.10") set value
Electrostatic Oiling: 25 – 300mg/sq. ft. (two-sided)
Blanking Line 3
Material Type: Electrogalvanized, Hot Dipped, Galvanneal, Cold Rolled (class 1 & 2), Aluminum
Material Gauge: 0.5mm (0.02") min to 2.3mm (0.09") max
Coil Weight: 40.8 metric tons (90,000 lbs.)
Coil Width: 457mm (18") min to 2134mm (84") max
Sheet Length: 305mm (12") min to 4013mm (158") max
Feed Accuracy: +/- 0.25mm (0.10") set value
Electrostatic Oiling: 25 – 300 mg/sq. ft. (two-sided)
Blanking Line 4
Material Type: Hot Dipped, Galvanneal, Cold Rolled (class 2), Aluminum
Material Gauge: 0.5mm (0.02") min to 3.47mm (0.13") max
Coil Weight: 40.8 metric tons (90,000 lbs.)
Coil Width: 457mm (18") min to 1930mm (76") max
Sheet Length: Reviewed case-by-case; hand stacking only
Feed Accuracy: +/- 0.25mm (0.10") set value
Electrostatic Oiling: N/A
Four Blanking Units:
High pressure hot water wash and electrostatic oiling
Two-sided inspection capabilities
Inline leveling
Feed forward capabilities
Capacity of running up to 60 strokes per minute on the blanking lines and 90 strokes per minute on the CTL
*Shut Height for all: 1270 mm (50″)
*Pass Line Height for all: 762mm (30″)
*Min/Max coil ID 24″-24″ and Min/Max coil OD 36″-80″